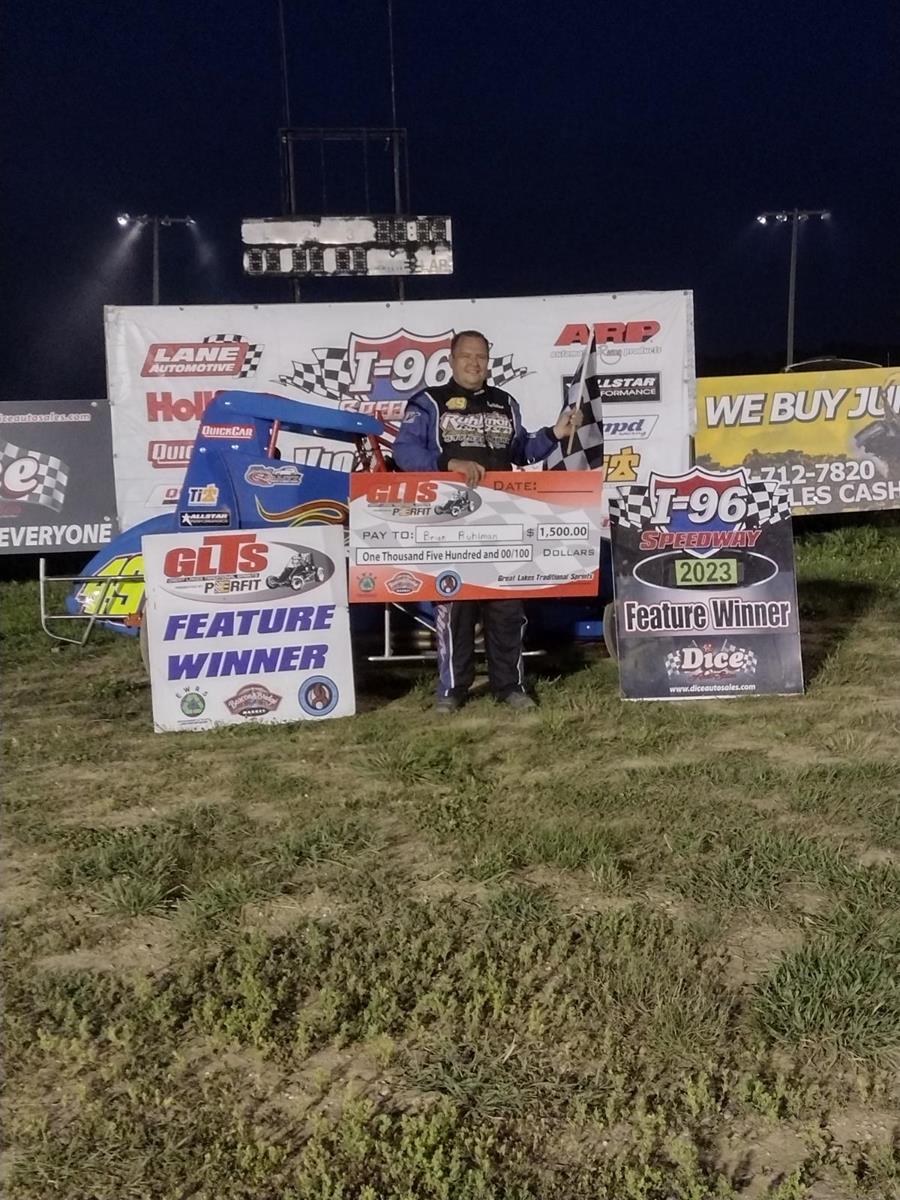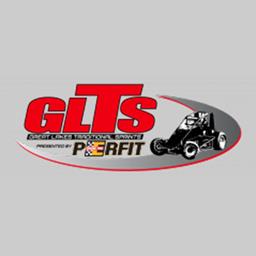 7/21/2023
Great Lakes Traditional Sprints
---
RUHLMAN WINS AGAIN, THIS TIME AT I-96 SPEEDWAY
Brian Ruhlman, a local from Clark Lake, MI, triumphed with back-to-back Feature Race wins at I-96 Speedway in Lake Odessa tonight. The thrilling high-speed event attracted a great crowd, and we want to extend a big thank you to all the fans, staff, and drivers for their incredible support.
Steve Irwin (Fenton,MI) started in pole position but Ruhlman swiftly took over and maintained the lead throughout the entire feature race. Kent Gardner (Davison,MI) impressed everyone by making an impressive climb from 16th to 9th place, earning him the hard charger award from Hoosier Racing Tire. Irwin clocked the fastest time at 15.837 seconds, closely followed by Parker Fredrickson (Kokomo,IN) at 16.007 seconds, and Ruhlman secured the third spot with a time of 16.015 seconds.
The Beacon and Bridge Market Heat Race 1 was won by Irwin, Engler Machine and Tool Heat Race 2 by Fredrickson, and Specialty Fuels and Logistics Heat Race 3 by Ruhlman.
Looking ahead, GLTS will continue the action at Limaland Motorsports Park on July 28th and Butler Motor Speedway on July 29th. Mark your calendars for more exciting racing!
Thank you to our sponsors who are the ones that allow us to a great show to your local tracks. Please help us by supporting the sponsors listed below….
PErfit Corporation
Engine Pro & ARP Racing
Hoosier Racing Tires
Beacon & Bridge Markets
Operating Engineers Local 324
Engler Machine & Tool
Howard Johnsons by Wyndham
Specialty Fuels & Logistics
Environmental Waste & Recovery Service
Precision Engine Works
TC Power Sports
Media Results for 7/21/2023 at I-96 Speedway - Lake Odessa, MI
410 Sprints - Non-Winged 17 Entries
A Feature 1 25 Laps
49-Brian Ruhlman[2]; 2. 85-Dustin Daggett[5]; 3. 34-Parker Frederickson[6]; 4. 0-Steve Irwin[1]; 5. 25-Max Frank[7]; 6. 16-Jackson Slone[3]; 7. 33F-Jason Ferguson[8]; 8. 13-Ian Hunter[13]; 9. 10G-Kent Gardner[16]; 10. 45-Colton Stepke[10]; 11. 3A-Mike Astrauskas[9]; 12. 00-Joseph (Joey) Irwin[12]; 13. 26-Dale Hunter[14]; 14. 10S-Jay Steinebach[4]; 15. 56-Mark Irwin[15]; 16. 54-Joel Hummel[11]; 17. 31-Terry Harrington[17]
Heat 1 8 Laps
0-Steve Irwin[4]; 2. 10S-Jay Steinebach[2]; 3. 25-Max Frank[3]; 4. 45-Colton Stepke[1]; 5. 13-Ian Hunter[5]; 6. 10G-Kent Gardner[6]
Heat 2 8 Laps
34-Parker Frederickson[4]; 2. 16-Jackson Slone[3]; 3. 33F-Jason Ferguson[2]; 4. 54-Joel Hummel[1]; 5. 26-Dale Hunter[5]; 6. 31-Terry Harrington[6]
Heat 3 8 Laps
49-Brian Ruhlman[4]; 2. 85-Dustin Daggett[3]; 3. 3A-Mike Astrauskas[2]; 4. 00-Joseph (Joey) Irwin[1]; 5. (DNS) 56-Mark Irwin
Qualifying 1 | 00:01:22.384
0-Steve Irwin, 00:15.837[6]; 2. 34-Parker Frederickson, 00:16.007[3]; 3. 49-Brian Ruhlman, 00:16.015[4]; 4. 25-Max Frank, 00:16.110[16]; 5. 16-Jackson Slone, 00:16.295[9]; 6. 85-Dustin Daggett, 00:16.352[12]; 7. 10S-Jay Steinebach, 00:16.606[13]; 8. 33F-Jason Ferguson, 00:16.630[15]; 9. 3A-Mike Astrauskas, 00:16.857[17]; 10. 45-Colton Stepke, 00:17.222[7]; 11. 54-Joel Hummel, 00:17.333[11]; 12. 00-Joseph (Joey) Irwin, 00:17.642[5]; 13. 13-Ian Hunter, 00:17.666[8]; 14. 26-Dale Hunter, 00:18.671[1]; 15. (DNF) 56-Mark Irwin, 00:18.671[2]; 16. (DNF) 10G-Kent Gardner, 00:18.671[10]; 17. (DNF) 31-Terry Harrington, 00:18.671[14]
---
Article Credit: Brooke K. Pulice
Article Media
Back to News