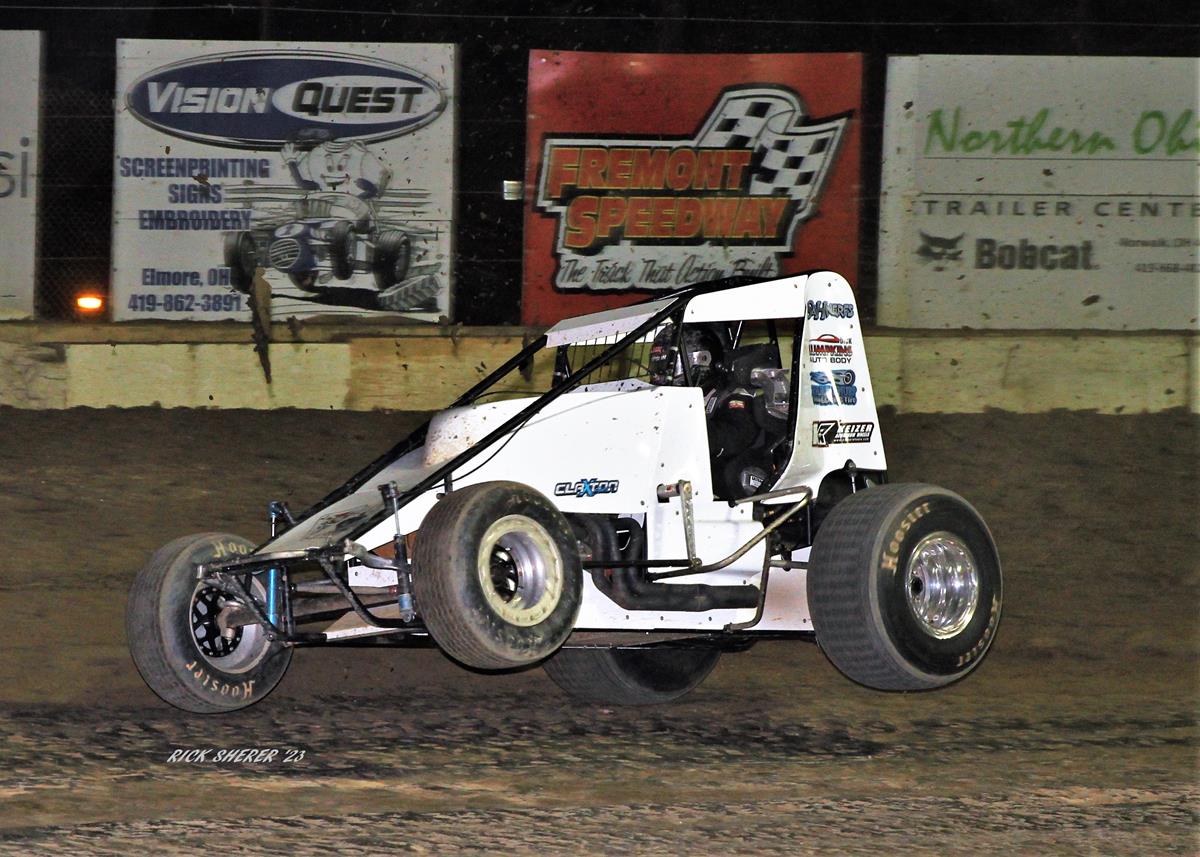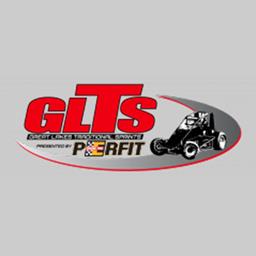 5/27/2023
Great Lakes Traditional Sprints
---
HERY UP ON THE WHEEL FOR HIS FIRST VICTORY
Fremont, OH - Piqua Oh native Travis Hery gets up on the wheel at the Track That Action Built tonight and takes home the checkered flag! At times, holding on and hoping for the best was all he could do as he navigated a challenging track at Fremont.
Larry Kingseed, Jr (Castalia, OH) seemed to be in control for the first 17 laps and it looked as if the race was all but over, until Kingseed went off the top of turn 3 when the casing broke on the rear end sending his right rear flying into turn 4.
Hery wasn't free and clear with the exit of Kingseed, as Keith Sheffer, Jr (Jerome, MI), Steve Irwin (Fenton, MI) and Hoosier Tire Hard Charging Luke Hall (Bradford, OH) where on him like glue! Sheffer actually making a charge at the finish line to challenge Hery! (Photo Credits to Rick Sherer)
Our next race for GLTS presented by PErfit is on Sunday, May 28th at Waynesfield Raceway Park and then on to Limaland Motorsports Park on Friday, June 2nd.
Thank you to our sponsors who are the ones that allow us to a great show to your local tracks. Please help us by supporting the sponsors listed below….
PErfit Corporation
Engine Pro & ARP Racing
Hoosier Racing Tires
Beacon & Bridge Markets
Operating Engineers Local 324
Engler Machine & Tool
Howard Johnsons by Wyndham
Specialty Fuels & Logistics
Environmental Waste & Recovery Service
Precision Engine Works
TC Power Sports
Percision Engine Works
GLTS presented by PErfit Non-Wing
Fremont Speedway
MPD Performance Qualifying
1.21H-Travis Hery, 15.784; 2.0-Steve Irwin, 15.790; 3.21-Larry Kingseed JR, 15.902; 4.86-Keith Sheffer, 15.932; 5.9N-Luke Hall, 16.124; 6.48-Mike Burkin, 16.285; 7.33-Jason Ferguson, 16.558; 8.99-Gage Etgen, 16.613; 9.00-Mike Galajda, 16.757; 10.2+-Brian Smith, 16.791; 11.10-Justin Adams, 16.895; 12.1M-Brandon Moore, 17.322; 13.97X-Rodney Hurst, 17.500; 14.23-Tank Brakenberry, 17.691; 15.2T-Ralph Brakenberry, 17.691; 16.28-Curt Elliot, 18.615;
Beacon & Bridge Markets Heat 1, Group A (8 Laps)
21-Larry Kingseed JR[3] ; 2. 33-Jason Ferguson[1] ; 3. 21H-Travis Hery[4] ; 4. 00-Mike Galajda[5] ; 5. 10-Justin Adams[6] ; 6. 9N-Luke Hall[2] ; 7. 97X-Rodney Hurst[7] ; 8. 23-Tank Brakenberry[8]
Engler Machine & Tool Heat 2, Group B (8 Laps)
99-Gage Etgen[1] ; 2. 0-Steve Irwin[4] ; 3. 86-Keith Sheffer[3] ; 4. 48-Mike Burkin[2] ; 5. 2+-Brian Smith[5] ; 6. 1M-Brandon Moore[6] ; 7. 2T-Ralph Brakenberry[7] ; 8. 28-Curt Elliot[8]
Engine Pro A-Main 1 (25 Laps)
21H-Travis Hery[1] ; 2. 86-Keith Sheffer[3] ; 3. 0-Steve Irwin[4] ; 4. 9N-Luke Hall[11] ; 5. 10-Justin Adams[9] ; 6. 48-Mike Burkin[8] ; 7. 1M-Brandon Moore[12] ; 8. 33-Jason Ferguson[6] ; 9. 99-Gage Etgen[5] ; 10. 2T-Ralph Brakenberry[14] ; 11. 28-Curt Elliot[16] ; 12. 23-Tank Brakenberry[15] ; 13. 21-Larry Kingseed JR[2] ; 14. 2+-Brian Smith[10] ; 15. 00-Mike Galajda[7] ; 16. 97X-Rodney Hurst[13]
---
Article Credit: Barry M. Marlow
Submitted By: Barry Marlow
Article Media
Back to News