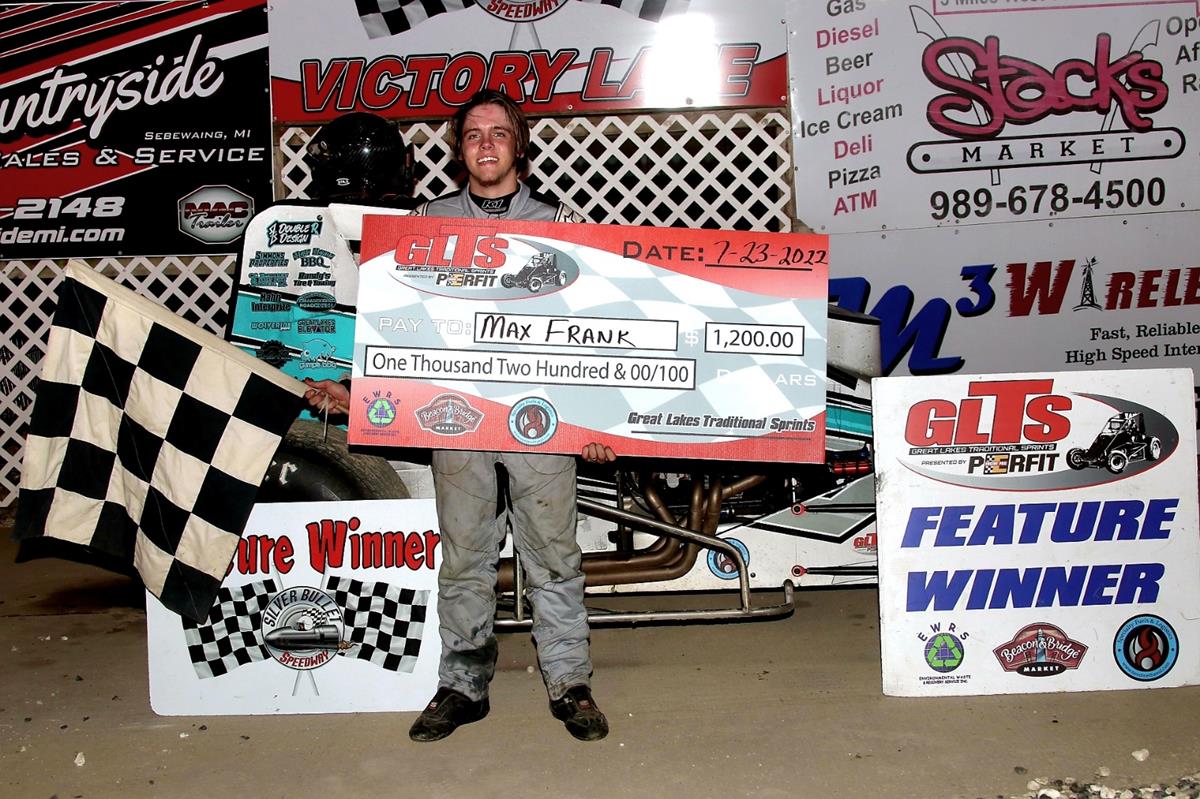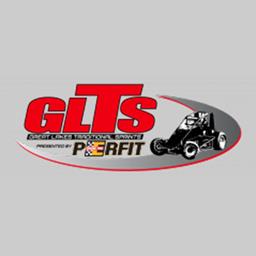 7/23/2022
Great Lakes Traditional Sprints
---
MAX FRANK WINS FIRST EVER FEATURE!
Owendale, MI - After six years of racing a full sized sprint car, Max Frank (Willisamston, MI) is able to add a Feature Win to his accomplishments as he took the checkered flag tonight at Silver Bullet Speedway.
With 14 cars registered for tonights race, Ian Hunter (Thamesford, ON) turned in the fast time, earning him the MPD Racing Quick Time. Mike Astrauskas (Pierson, MI) and Keith Sheffer, Jr rounded out the top 3.
In the Engler Machine & Tool Heat 1, Sheffer cruised to the heat race win over Jason Ferguson (Fremont, MI) and Trent Musk (Muskegon, MI).
Frank won the Beacon & Bridge Markets Heat 2 over Astrauskas and Tank Brakenberry (Pigeon, MI).
In the PErfit A-Main, Astrauskas brought the field around to the green. As Astrauskas gets on the pedal, Frank and Sheffer are quickly challenging Astrauskas as they all fall into line in turn one. As they complete one lap, Sheffer is the leader. Sheffer leads laps 2 and 3 as well but as they get into lap 4, Frank is able to get by Sheffer for the lead. The lead he wouldn't give up the rest of the race.
Up front Sheffer stayed glued to Frank, challenging where he could, but tonight Frank had the speed to keep Sheffer in check. With 2 laps to go, the caution comes out for Sheffer as the cords in his right rear tire finally let go. With no time allowed in the hot pits with only two laps to go, unfortunately the night was done for Sheffer. As the green, white, checkered flags fly, the race went to Frank and joining him on the podium was Ferguson and Astrauskas.
Jason Ferguson was also the Hoosier Race Tire Hard Charger moving up from his 6th starting position to finish 2nd.
Great Lakes Traditional Sprints presented by PErfit will be back in action next Friday, July 29th at I-96 Speedway.
Thank you to all of our sponsors, fans, tracks and teams that support Great Lakes Traditional Sprints presented by PErfit, without them none of this would be possible. Be sure to follow us on Facebook and Twitter (@GLSprints).
For our schedule, results and points, go to our website at www.greatlakessprints.com.
Engine Pro & ARP (Automotive Racing Products)
PERFIT
Hoosier Racing Tires
Engler Machine & Tool
Rocket Headers
Beacon & Bridge Markets
EWRS, Inc
Specialty Fuels & Logistics
Addvance Heating & Cooling
Midland Steel
Ti22 Performance
MPD Racing
Media Results for 7/23/2022 at Silver Bullet Speedway - Owendale, MI
410 Sprints - Non-Winged 14 Entries
A Feature 1 25 Laps | 00:25:48.817
25-Max Frank[3]; 2. 33F-Jason Ferguson[6]; 3. 3A-Mike Astrauskas[1]; 4. 5X-Trent Musk[4]; 5. 89-Chris Pobanz[8]; 6. 56-Mark Irwin[9]; 7. 13-Ian Hunter[7]; 8. 00-Joseph (Joey) Irwin[11]; 9. 3T-Tank Brakenberry[5]; 10. 31-Jim Girard[10]; 11. 26-Dale Hunter[13]; 12. 86-Keith Sheffer Jr[2]; 13. 23-Ralph Brakenberry[12]; 14. (DNS) 4G-Kent Gardner
Engler Machine & Tool Heat 1 8 Laps | 00:06:40.320
86-Keith Sheffer Jr[3]; 2. 33F-Jason Ferguson[2]; 3. 5X-Trent Musk[5]; 4. 13-Ian Hunter[4]; 5. 56-Mark Irwin[7]; 6. 00-Joseph (Joey) Irwin[1]; 7. 26-Dale Hunter[6]
Beacon and Bridge Markets Heat 2 8 Laps | 00:18:01.386
25-Max Frank[3]; 2. 3A-Mike Astrauskas[4]; 3. 3T-Tank Brakenberry[5]; 4. 89-Chris Pobanz[2]; 5. 31-Jim Girard[1]; 6. 23-Ralph Brakenberry[7]; 7. 4G-Kent Gardner[6]
Qualifying 1 | 00:03:53.662
13-Ian Hunter, 00:15.842[1]; 2. 3A-Mike Astrauskas, 00:16.006[9]; 3. 86-Keith Sheffer Jr, 00:16.016[13]; 4. 25-Max Frank, 00:16.083[12]; 5. 33F-Jason Ferguson, 00:16.087[2]; 6. 89-Chris Pobanz, 00:16.301[14]; 7. 00-Joseph (Joey) Irwin, 00:16.304[4]; 8. 31-Jim Girard, 00:16.527[10]; 9. 5X-Trent Musk, 00:16.653[11]; 10. 3T-Tank Brakenberry, 00:16.656[5]; 11. 26-Dale Hunter, 00:16.728[7]; 12. 4G-Kent Gardner, 00:16.764[8]; 13. 56-Mark Irwin, 00:16.859[6]; 14. 23-Ralph Brakenberry, 00:17.273[3]
---
Article Credit: GLTS Staff
Submitted By: Barry Marlow
Article Media
Back to News