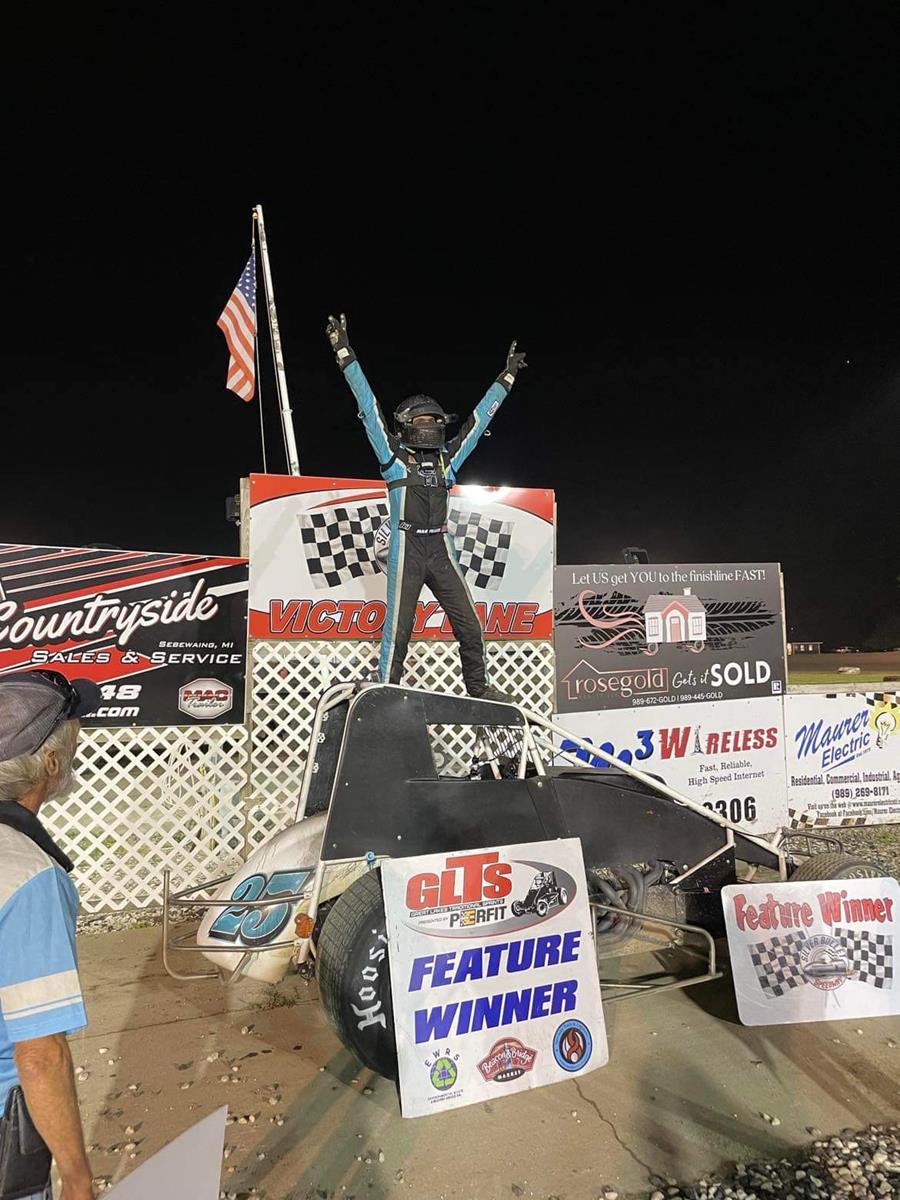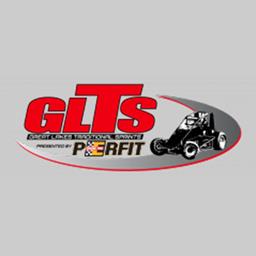 7/23/2023
Great Lakes Traditional Sprints
---
MAX FRANK STRIKES AGAIN AT SILVER BULLET
Owendale, MI (Saturday, July 23, 2023) -Great Lakes Traditional Sprints presented by PErfit Engine Pro (GLTS) had their second mini track race of the season at Silver Bullet Speedway. We did have a rough night out on the track, but thankfully none of the drivers got injured. Unfortunately, we did have rain delay, which set us back almost two hours. Though we had a rough night, GLTS really knows how to put on a fantastic show! The night was packed with a thrilling event of high speed racing and an amazing turnout in the stands. To start this right, we would like to say thank you to all the drivers, fans, sponsors, and staff members who came out to the race and supported us.
Max Frank (Williamston, MI) started in 2nd place and after the first lap, he was able to pass by Ian Hunter (Thamesford, ON) who was holding the lead. Frank was able to hold his place after several cautions and take home another win for the season at Silver Bullet Speedway.
Jason Ferguson (Fremont, MI) ended up winning the Hoosier Racing Tire Hard Charger charging a total of four positions. Frank sets a fast time of 14.954 seconds taking home the MPD Racing Fast Qualifier!
Frank takes home the Engler Machine and Tool Heat Race 1. Steve Irwin (Fenton, MI) wins the Beacon & Bridge Market Heat Race 2. Hunter bags the third Heat Race presented by Specialty Fuels and Logistics.
To catch tonight's heat races and features, and all the GLTS races, go to the Great Lakes Super Sprints YouTube page. Be sure to follow the page and follow us on Facebook, TikTok, Instagram, and Twitter! For all the news, schedules, results and points, go to www.greatlakessprints.com and click on your favorite division.
Next Up! GLTS will be racing at Limaland Motorsports Park on July 28th and Butler Motor Speedway on July 29th!!
Thank you to our sponsors who are the ones that allow us to a great show to your local tracks. Please help us by supporting the sponsors listed below….
PErfit Corporation
Engine Pro & ARP Racing
Hoosier Racing Tires
Beacon & Bridge Markets
Operating Engineers Local 324
Engler Machine & Tool
Howard Johnsons by Wyndham
Specialty Fuels & Logistics
Environmental Waste & Recovery Service
Precision Engine Works
TC Power Sports
Media Results for 7/22/2023 at Silver Bullet Speedway - Owendale, MI
410 Sprints - Non-Winged 17 Entries
A Feature 1 25 Laps | 00:40:16.459
25-Max Frank[2]; 2. 26-Dale Hunter[4]; 3. 0-Steve Irwin[6]; 4. 33-RJ Payne[3]; 5. 13-Ian Hunter[1]; 6. 33F-Jason Ferguson[10]; 7. 56-Mark Irwin[12]; 8. 9-Gary Hayward[9]; 9. 199-Craig Sharfenberg Jr[5]; 10. 23-Tank Brakenberry[17]; 11. 99-Craig Sharfenberg Sr[7]; 12. 2T-Ralph Brakenberry[8]; 13. 54-Joel Hummel[13]; 14. (DNF) 00-Joseph (Joey) Irwin[14]; 15. (DNF) 3A-Mike Astrauskas[15]; 16. (DNF) 10G-Kent Gardner[11]; 17. (DNS) 89-Chris Pobanz
Heat 1 8 Laps | 00:09:18.991
2-Max Frank[4]; 2. 33-RJ Payne[2]; 3. 99-Craig Sharfenberg Sr[1]; 4. 33F-Jason Ferguson[3]; 5. 54-Joel Hummel[5]; 6. (DNF) 89-Chris Pobanz[6]
Heat 2 8 Laps | 00:05:24.930
0-Steve Irwin[4]; 2. 199-Craig Sharfenberg Jr[1]; 3. 2T-Ralph Brakenberry[3]; 4. 10G-Kent Gardner[6]; 5. 00-Joseph (Joey) Irwin[2]; 6. 23-Tank Brakenberry[5]
Heat 3 8 Laps | 00:04:47.997
13-Ian Hunter[1]; 2. 26-Dale Hunter[3]; 3. 9-Gary Hayward[2]; 4. 56-Mark Irwin[5]; 5. 3A-Mike Astrauskas[4]
Qualifying 1 | 00:02:46.200
25-Max Frank, 00:14.954[1]; 2. 0-Steve Irwin, 00:15.343[15]; 3. 3A-Mike Astrauskas, 00:15.553[10]; 4. 33F-Jason Ferguson, 00:15.579[8]; 5. 2T-Ralph Brakenberry, 00:16.253[2]; 6. 26-Dale Hunter, 00:16.265[5]; 7. 33-RJ Payne, 00:16.365[4]; 8. 00-Joseph (Joey) Irwin, 00:16.391[13]; 9. 9-Gary Hayward, 00:16.429[6]; 10. 99-Craig Sharfenberg Sr, 00:16.446[14]; 11. 199-Craig Sharfenberg Jr, 00:16.518[17]; 12. 13-Ian Hunter, 00:16.553[9]; 13. 54-Joel Hummel, 00:16.626[16]; 14. 23-Tank Brakenberry, 00:16.698[12]; 15. 56-Mark Irwin, 00:16.786[7]; 16. 89-Chris Pobanz, 00:16.786[11]; 17. 10G-Kent Gardner, 00:16.786[3]
---
Article Credit: Brooke K. Pulice
Article Media
Back to News