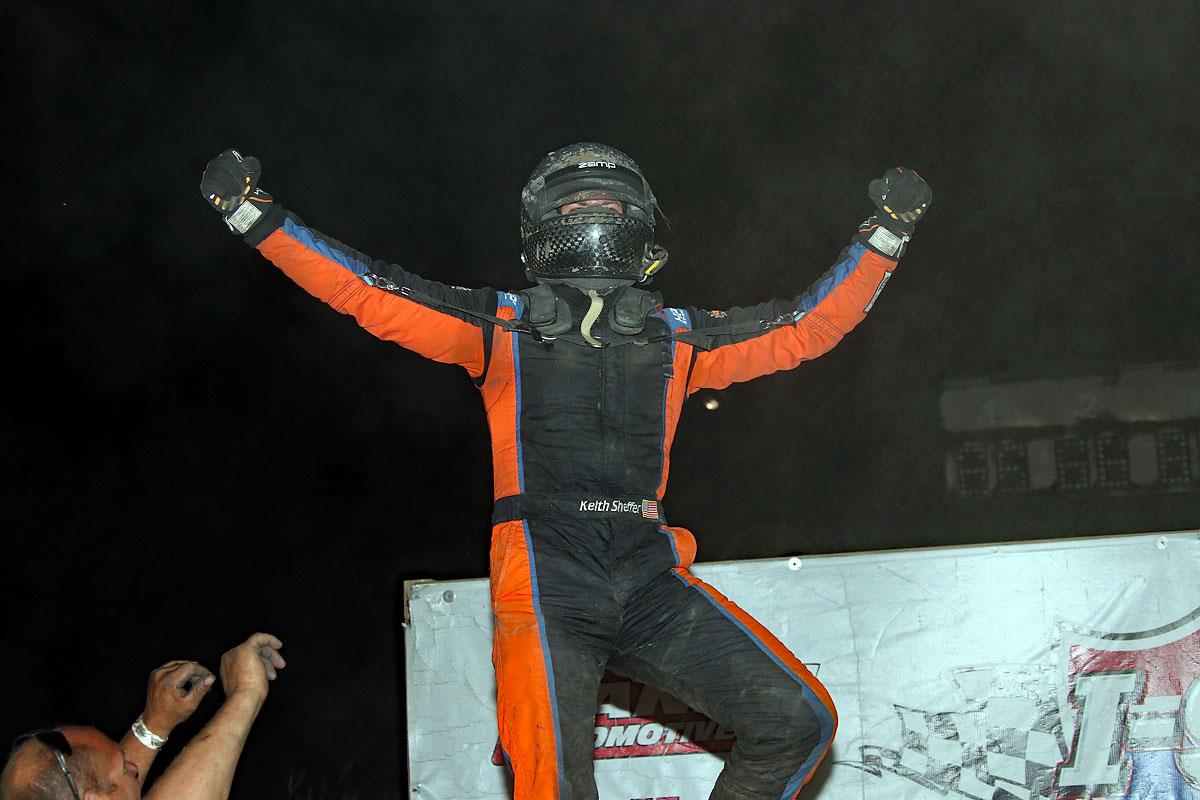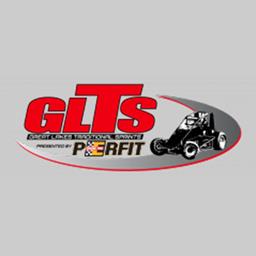 7/29/2022
Great Lakes Traditional Sprints
---
SHEFFER SLINGSHOTS TO WIN
Lake Odessa, MI - Coming up short last Saturday with a blown tire with two laps to go, Keith "Junior" Sheffer put that in his past tonight, starting 6th and rocketing by leaders Dustin Daggett (Portland, MI) and Stevie Irwin (Fenton, MI) in the 8th lap and never looked back, winning with a 4 second margin.
Rescheduling our race tonight from July 22, we inadvertantly scheduled against a non wing show at Limaland in NW Ohio. So we were pleased with the 15 cars that showed for tonights Open Wheel Shootout.
Hitting the track first for qualifying tonight, Sheffer set fast time for the group with Stevie Irwin and Parker Frederickson (Kokomo, IN) rounding out the top 3.
In the Engler Machine & Tool Heat 1, Frederickson narrowly holds off a charging Sheffer for the win. Last weeks feature winner, Max Frank (Williamson, MI) holds on for third and the last redraw spot.
Stevie Irwin cruises to victory in the Beacon & Bridge Markets Heat 2. Daggett and Brian Ruhlman (Clark Lake, MI) round out the podium.
After driver interductions and the redraws in the winners circle, The PErfit A Main rolls out for the first feature of the night. As Daggett and Ruhlman bring the group to the line, the flagman shows the green and Stevie makes an inside move to go around the left side of Ruhlman and quickly is on Daggett's tail going into turn one.
As the laps click off, it appears it will be the Daggett and Irwin show. Sheffer starting sixth had settled into 5th place, in a perfect position watch the battle in front of him. Then in lap 5, sheffer gets by Ruhlman and Frank and now is looking at Irwins tail tank. Then in lap 8 Junior picks off Irwin for 2nd and in lap nine he gets by the leader and proceeds to work his own path to the top of the podium.
The Hoosier Hard Charger was Keith Sheffer, Jr as well, moving up 5 spots from 6th to 1st.
Great Lakes Traditional Sprints presented by PErfit will be back in action when they make their first appearance this year at the Battle Grounds of Butler Speedway on Saturday, August 13th.
Thank you to all of our sponsors, fans, tracks and teams that support Great Lakes Traditional Sprints presented by PErfit, without them none of this would be possible. Be sure to follow us on Facebook and Twitter (@GLSprints).
For our schedule, results and points, go to our website at www.greatlakessprints.com or see all of our classes at www.greatlakessprints.com.
Engine Pro & ARP (Automotive Racing Products)
PERFIT
Hoosier Racing Tires
Engler Machine & Tool
Rocket Headers
Beacon & Bridge Markets
EWRS, Inc
Specialty Fuels & Logistics
Addvance Heating & Cooling
Midland Steel
Ti22 Performance
MPD Racing
410 Sprints - Non-Winged 15 Entries
A Feature 1 20 Laps | 00:10:00.674
86-Keith Sheffer Jr[6]; 2. 85-Dustin Daggett[1]; 3. 0-Steve Irwin[4]; 4. 49-Brian Ruhlman[2]; 5. 25-Max Frank[3]; 6. 10S-Jay Steinebach[7]; 7. 3A-Mike Astrauskas[9]; 8. 33F-Jason Ferguson[8]; 9. 4G-Kent Gardner[13]; 10. 5X-Trent Musk[11]; 11. X-Colton Stepke[12]; 12. 54-Joel Hummel[14]; 13. 00-Joseph (Joey) Irwin[10]; 14. 34-Parker Frederickson[5]; 15. 18-Mark Irwin[15]
Heat 1 8 Laps | 00:05:26.345
34-Parker Frederickson[3]; 2. 86-Keith Sheffer Jr[4]; 3. 25-Max Frank[2]; 4. 10S-Jay Steinebach[5]; 5. 3A-Mike Astrauskas[1]; 6. 5X-Trent Musk[6]; 7. 4G-Kent Gardner[8]; 8. 18-Mark Irwin[7]
Heat 2 8 Laps | 00:08:14.800
0-Steve Irwin[4]; 2. 85-Dustin Daggett[3]; 3. 49-Brian Ruhlman[2]; 4. 33F-Jason Ferguson[1]; 5. 00-Joseph (Joey) Irwin[5]; 6. X-Colton Stepke[6]; 7. 54-Joel Hummel[7]
Qualifying 1 | 00:00:53.531
86-Keith Sheffer Jr, 00:15.920[4]; 2. 0-Steve Irwin, 00:16.037[1]; 3. 34-Parker Frederickson, 00:16.046[2]; 4. 85-Dustin Daggett, 00:16.274[11]; 5. 25-Max Frank, 00:16.277[3]; 6. 49-Brian Ruhlman, 00:16.620[12]; 7. 3A-Mike Astrauskas, 00:16.764[7]; 8. 33F-Jason Ferguson, 00:16.831[9]; 9. 10S-Jay Steinebach, 00:17.350[6]; 10. 00-Joseph (Joey) Irwin, 00:17.578[8]; 11. 5X-Trent Musk, 00:17.602[5]; 12. X-Colton Stepke, 00:17.981[13]; 13. 18-Mark Irwin, 00:18.475[10]; 14. 54-Joel Hummel, 00:18.962[14]; 15. (DNS) 4G-Kent Gardner, 00:18.962
---
Article Credit: GLTS Staff
Submitted By: Barry Marlow
Article Media
Back to News