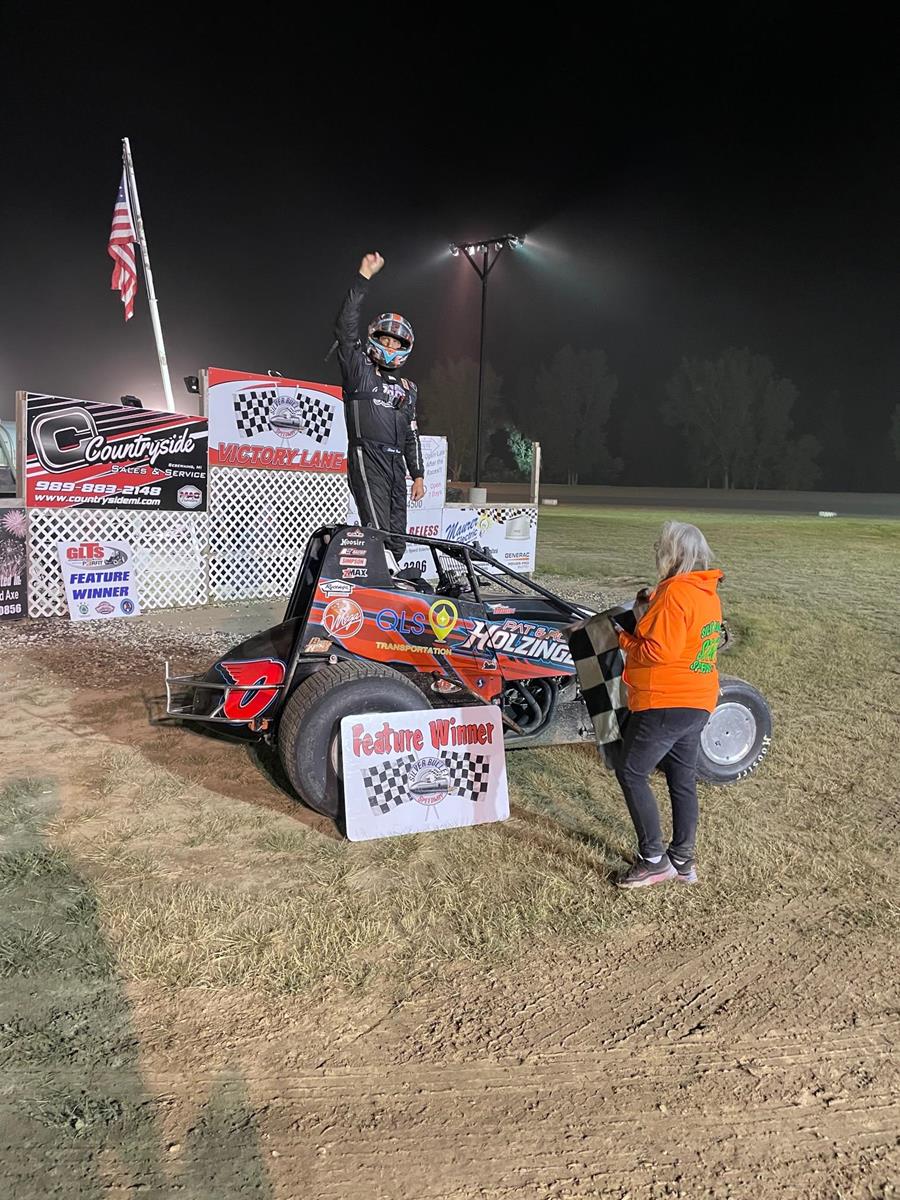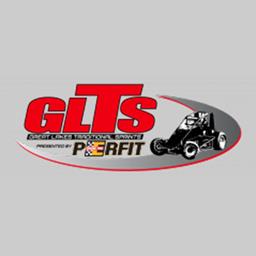 6/18/2022
Great Lakes Traditional Sprints
---
Irwin Takes the Bullet for a Clean Sweep
Owendale, MI - Stevie "The Flying Zero" Irwin was tested this weekend, but prevailed in making this double header weekend a clean sweep in Victory Lane at I-96 Speedway on Friday night and Silver Bullet tonight!
For many drivers, "The Bullet" is a long drive from the other side of the state. However, the Silver Bullet fans and staff love seeing sprint cars and always make us feel welcome when we visit "The Thumb" of Michigan. Tonight was no exception as 16 Great Lakes Traditional Sprints presented by PErfit rolled into the Bullet from all over the state as well as two from Ontario, Canada.
After a little technical difficulty with the internet, GLTS was set up to start qualifying. Rolling out in the first group was past GLTS Champion, Mike Galadja (Fenton, MI) and he set a lap time of 15.677 seconds. Quick time so far and would hold to be 3rd quick. Keith Sheffer, Jr (Jerome, MI), the fast qualifier Friday night rolled out in the 5th qualifying group and set an MPD Racing Quick Qualifying lap time of 15.314 seconds. Max Frank (Williamston, MI) set 2nd quick time after going out in the second group.
In the Engler Machine & Tool Heat 1, we had two winners: At the end of 8 laps, Dustin Daggett(Portland, MI) was the leader of the pack, unfortunately ttechnology reared its head, the rssssace went on for another 4 laps, giving Keith Sheffer, Jr.the win. With no points fund money or payout money affected and both drivers making it to redraw, we all agreed we would just share the win and move on with the night. Galadja came in third in both finishes, making it Daggett, Sheffer and Galadja, or Sheffer, Daggett and Galadja.
In the Beacon & Bridge Markets Heat 2, it was all Stevie Irwin as he cruised to the winners circle in 8 laps. Max Frank and Chris Pobanz (Sebewang, MI) rounded out the top 3 cars and moving them into the feature redraw.
With a clean start in the PErfit A-Main, all racers made the first lap with no incidents. As the laps were clicking off, Stevie Irwin was out front trying to create distance with the other guys!!! in lap 9, Jason Ferguson (Fremont, MI) shot off the top of turn 2, going out of site of the flag man and bringing out a quick yellow. After a single file restart, Irwin knows he has 4-5 other cars pushing on his bumper.
Stevie Irwin did a great job of keeping Sheffer, Daggett, Frank and Galadja of fhis tail. But as Irwin is coming out of turn four and looking at the flag man to wave the white flag (one to go), two cars got tangled up coming out of turn 4, which in turn brought out the caution flag.
With the cars cleared and refired, the flag man gives the field a green flag. As they come around the field gets the green, white then checkered. Irwin holds off all challenges sweeping the weekend on both nights. Sheffer collects second place, while Max Frank, Mike Galadja and Mike Astrauskas round out the top five cars. Trent Musk (Muskegon, MI) wins the Hoosier Race Tire Hard Charger Award, starting 13th and finishing 6th.
Great Lakes Traditional Sprints presented by PErfit will next be in action at Fremont Speedway on Saturday, July 1st and then travel west to Waynesfield Raceway Park for Sunday, July 2nd and the Hewitt Classic.
Thank you to our sponsors that make all of this possible and Happy Fathers Day to all the dads out there.
Perfit Corporation
Specialty Fuels & Logistics
Environmental Waste & Recovery Service (EWRS)
Hoosier Race Tires
Engler Machine & Tool
Beacon & Bridge Markets
Rocket Headers
MPD Racing
PErfit A Feature 1 25 Laps | 00:23:04.624
0-Steve Irwin[1]; 2. 86-Keith Sheffer Jr[5]; 3. 25-Max Frank[6]; 4. 2-Mike Galadja[3]; 5. 3A-Mike Astrauskas[7]; 6. 89-Chris Pobanz[2]; 7. 5X-Trent Musk[13]; 8. 13-Ian Hunter[8]; 9. 4G-Kent Gardner[15]; 10. 33F-Jason Ferguson[11]; 11. 31-Jim Girard[9]; 12. 26-Dale Hunter[16]; 13. 18-Mark Irwin[10]; 14. 23-Ralph Brakenberry[14]; 15. (DNF) 85-Dustin Daggett[4]; 16. (DNF) 56-Rick Irwin[12]
Engler Machine & Tool Heat 1 8 Laps | 00:05:31.000
85-Dustin Daggett[1]; 2. 86-Keith Sheffer Jr[4]; 3. 2-Mike Galadja[3]; 4. 3A-Mike Astrauskas[2]; 5. 31-Jim Girard[5]; 6. 33F-Jason Ferguson[7]; 7. 5X-Trent Musk[6]; 8. 4G-Kent Gardner[8]
Beacon & Bridge Markets Heat 2 8 Laps | 00:06:01.000
0-Steve Irwin[3]; 2. 25-Max Frank[4]; 3. 89-Chris Pobanz[2]; 4. 13-Ian Hunter[1]; 5. 18-Mark Irwin[6]; 6. 56-Rick Irwin[7]; 7. 23-Ralph Brakenberry[5]; 8. (DNF) 26-Dale Hunter[8]
MPD Racing Qualifying 1 | 00:22:32.000
86-Keith Sheffer Jr, 00:15.314[13]; 2. 25-Max Frank, 00:15.504[4]; 3. 2-Mike Galadja, 00:15.677[1]; 4. 0-Steve Irwin, 00:15.975[11]; 5. 3A-Mike Astrauskas, 00:16.022[8]; 6. 89-Chris Pobanz, 00:16.166[15]; 7. 85-Dustin Daggett, 00:16.316[10]; 8. 13-Ian Hunter, 00:16.320[3]; 9. 31-Jim Girard, 00:16.345[6]; 10. 23-Ralph Brakenberry, 00:16.360[2]; 11. 5X-Trent Musk, 00:16.469[7]; 12. 18-Mark Irwin, 00:16.589[16]; 13. 33F-Jason Ferguson, 00:16.619[9]; 14. 56-Rick Irwin, 00:16.746[14]; 15. 4G-Kent Gardner, 00:16.885[5]; 16. 26-Dale Hunter, 00:17.321[12]
---
Article Credit: GLTS Staff
Submitted By: Barry Marlow
Article Media
Back to News