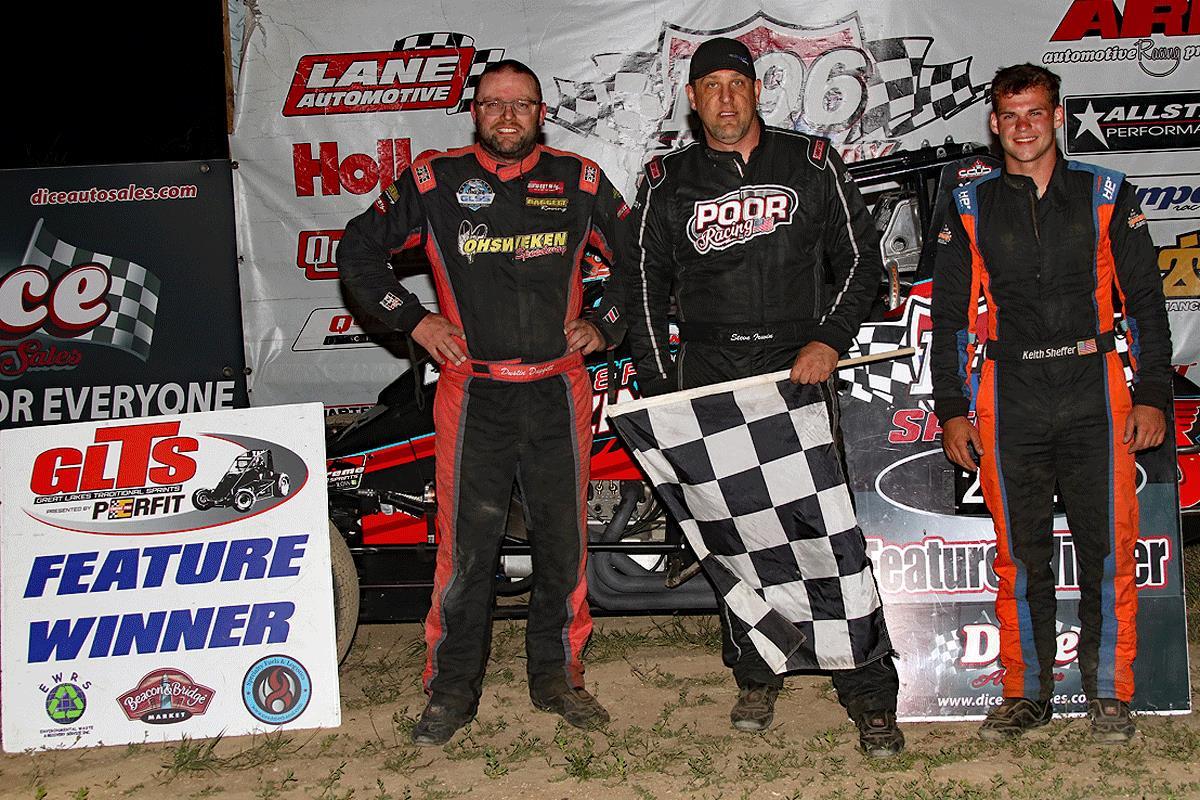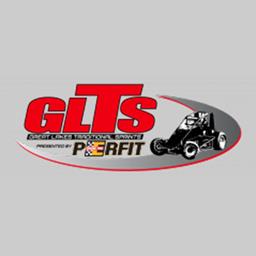 6/17/2022
Great Lakes Traditional Sprints
---
Irwin, Daggett & Sheffer go 1,2,3 at I-96
Lake Odessa, MI – In an action packed feature, Stevie Irwin (Fenton, MI) was able to navigate traffic and hold off a charging Dustin Daggett (Portland, MI) by 14 hundreths of a second to take the checkered flag and his 2nd win of the season.
Tonights race for the Great Lakes Traditional Sprints presented by PErfit, was our third race of the season, but actually our first race alone and not co-sanctioned. "I didn't really know what to expect" says Barry Marlow, owner of GLTS and Great Lakes Sprints, "I was hoping to have somewhere between 16 to 18 cars and we were right there, Marlow continued. GLTS took the track first to put heat in their motors. Following modifieds, GLTS lined up in the chute and begain 3 car qualifying.
Going out in the next to the last group, Keith Sheffer, Jr set the MPD Racing fast qualifier for the night with a 15.957 second lap. Irwin was second quick with 16.181 second lap after going out in the final group. Daggett rounded out the quick three qualifiers with a 16.282 second lap.
In the Engler Machine & Tool Heat 1, Mike Astrauskas (Pierson, MI) led the field to the green flag. Astrauskas is the leader after 1 lap, but Sheffer was coming hard from his 4th starting position. Sheffer was able to get around Max Frank (Williamston, MI) and Astrauskas for the lead, which he owns till the checkered flag. Astrauskas and Frank finished 2nd and 3rd respectfully.
Ian Hunter (Tmesford, ON) leads the field to the green flag in the Rocket Header Heat 2. Jason Ferguson (Fremont, MI) quickly moved up and secured first place with Irwin staying right behind him. Ferguson is on cruise control for the first 6 laps, then with a caution thrown and the field sorted single field for a restart. With a flurry, Irwin worked has way around Ferguson where he would take the win. John Watson (St Thomas, ON) and Ferguson rounded out the top 3 finishers.
Rolling out for the feature, Astrauskas once again finds himself in the pole positon with Irwin to his right. As the green flag dropped the field charged into turn 1, when 3 cars got tangled up at the bottom of 1 and 2. Fortunately, for everyone involved, other then dented bumpers and nerf bars, they were able to fire and start in the double file restart. With a clean start the second time, cars started to move forward and a few cars that ddidn't. In the next 20 green flag laps, Irwin lead, however behind him, Daggett had moved up 10 spots to second and Jay Steinebach moved up 10 spots from 15th. As the checkered flag waved, Irwin took the win just 14 hundreths of second over Daggett.
Our next race will be Saturday, June 18, 2022 at the Silver Bullet Speedway near Owendale, MI. Racing starts at 7 pm.
Sponsors:
Perfit Corporation
Engler Machine & Tool
Rocket Headers
Beacon & Bridge Markets
Specialty Fuels & Logistics
Environmental Waste & Recovery Services
Hoosier Racing Tires
A Feature 1 20 Laps | 00:16:37.337
0-Steve Irwin[2]; 2. 85-Dustin Daggett[7]; 3. 86-Keith Sheffer Jr[6]; 4. 25-Max Frank[3]; 5. 10S-Jay Steinebach[15]; 6. 26-John Watson[4]; 7. 33F-Jason Ferguson[5]; 8. 3A-Mike Astrauskas[1]; 9. 61-Don Smith[12]; 10. 00-Joseph (Joey) Irwin[11]; 11. 5X-Trent Musk[14]; 12. 13-Ian Hunter[8]; 13. 54-Joel Hummel[9]; 14. 4G-Kent Gardner[13]; 15. 18-Mark Irwin[10]; 16. 31-Joe Harden[16]
Engler Machine & Tool Heat 1 8 Laps | 00:03:47.000
86-Keith Sheffer Jr[4]; 2. 3A-Mike Astrauskas[1]; 3. 25-Max Frank[2]; 4. 85-Dustin Daggett[3]; 5. 54-Joel Hummel[5]; 6. 00-Joseph (Joey) Irwin[6]; 7. 4G-Kent Gardner[7]; 8. 10S-Jay Steinebach[8]
Rocket Headers Heat 2 8 Laps | 00:08:23.000
0-Steve Irwin[4]; 2. 26-John Watson[5]; 3. 33F-Jason Ferguson[3]; 4. 13-Ian Hunter[1]; 5. 18-Mark Irwin[6]; 6. 61-Don Smith[7]; 7. 5X-Trent Musk[2]; 8. 31-Joe Harden[8]
Qualifying 1 | 00:01:16.000
86-Keith Sheffer Jr, 00:15.957[14]; 2. 0-Steve Irwin, 00:16.188[15]; 3. 85-Dustin Daggett, 00:16.282[5]; 4. 33F-Jason Ferguson, 00:16.390[8]; 5. 25-Max Frank, 00:16.673[13]; 6. 5X-Trent Musk, 00:16.753[1]; 7. 3A-Mike Astrauskas, 00:16.789[3]; 8. 13-Ian Hunter, 00:17.291[6]; 9. 54-Joel Hummel, 00:17.387[11]; 10. 26-John Watson, 00:17.397[9]; 11. 31-Joe Harden, 00:17.500[10]; 12. 00-Joseph (Joey) Irwin, 00:17.571[16]; 13. 18-Mark Irwin, 00:18.055[12]; 14. 4G-Kent Gardner, 00:18.083[4]; 15. 61-Don Smith, 00:18.091[2]; 16. 10S-Jay Steinebach, 00:25.990[7]
---
Article Credit: GLTS Staff
Submitted By: Barry Marlow
Article Media
Back to News